Servers and Network monitoring systems in any environment Linux or windows is utterly important to keep your infrastructure and network intact and running smoothly. Below discussed monitoring tools helps you to monitor all kinds of system resources including the CPU load, Memory Usage, network traffic, status of all devices connected to the network or in providing instant notifications to the admin when it detects any abnormal or suspicious activity.
There are many popular monitoring tools available in the market and we've analyzed the top 11 open source Linux monitoring tools.
1) Nagios Core
Nagios is one the most widely used network and server monitoring system that has been in the industry for almost 18 years. With all the experience in understanding all kinds of network issues, Nagios Core has been developed into a powerful monitoring system that allows the organizations to keep their network intact as Nagios Core helps to identify and resolve all kinds of issues before becoming into a huge critical issue.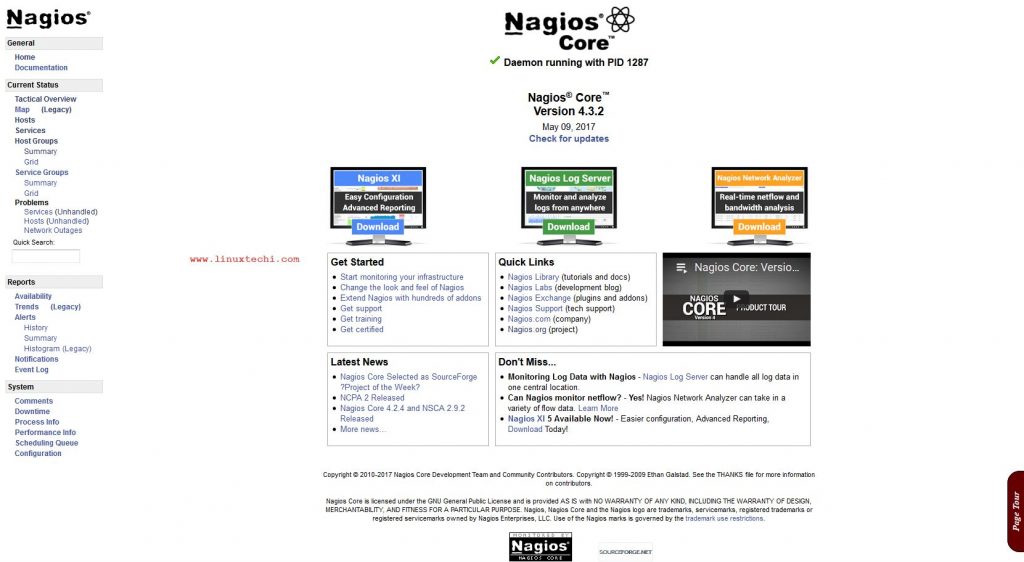 It is basically a text based configuration tool as all kinds of configuration are stored in text files and it takes some time to learn about the functionalities and configuration options of the software, but once you've mastered it, you don't need to worry about any problems with your network.
Also Read: How to Install and Configure Nagios Core on CentOS 8 / RHEL 8
2)  Zabbix
Zabbix is another free monitoring system that is written in PHP and is licensed under GPL. It is a combination of both Nagios and Cacti and provides a simple way for monitoring your network and provides timely alerts in case of any suspicious activity. You can also see some well-structured graphs with useful data.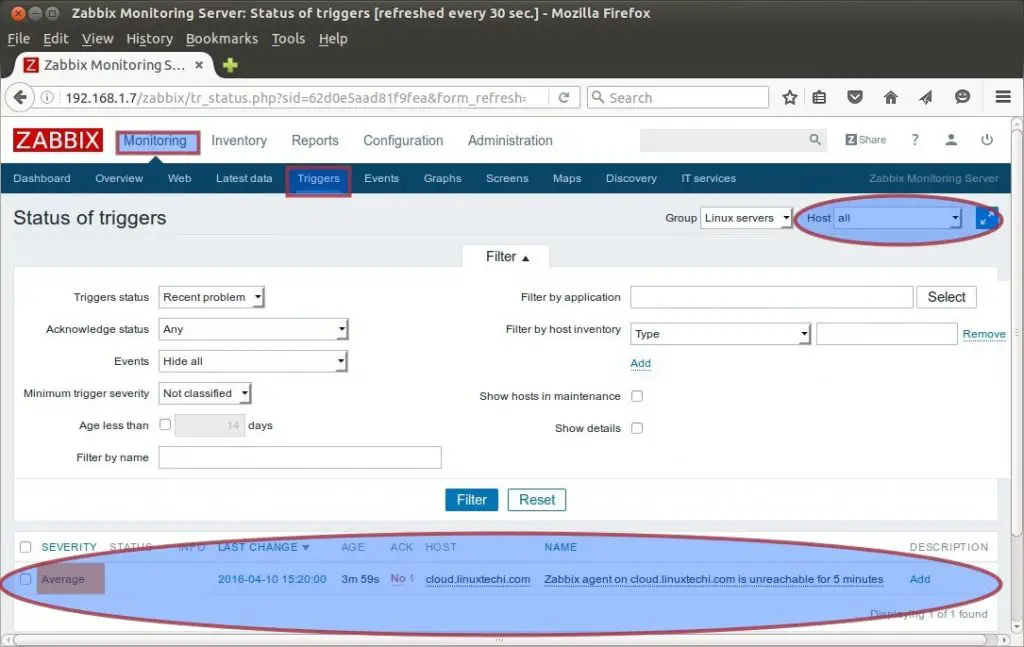 Some of the unique features of Zabbix includes:
It is completely open source and can be used for both non-commercial and commercial use for free
Admins can easily monitor their servers and networks easily with the help of statistical and performance data
Admins can also monitor all kinds of network devices and applications attached to the network
Notifications are sent through SMS and email during any suspicious activity
Designed for use in both small scale and large scale applications
Also Read : How to Install Zabbix Monitoring Tool on CentOS 8/RHEL 8
3) Cacti
Cacti is not your regular network monitoring tool, but a great data collection tool that helps in gathering all kinds of data regarding user permissions, user access to certain charts and also helps in building complex graphs and storing data securely in a MySQL database. All the data gathering job is done through a cron job by an external script that provides all the metrics to build the graphs. Cacti can be used to build all kinds of graphs, which can be displayed and organized in a lot of ways.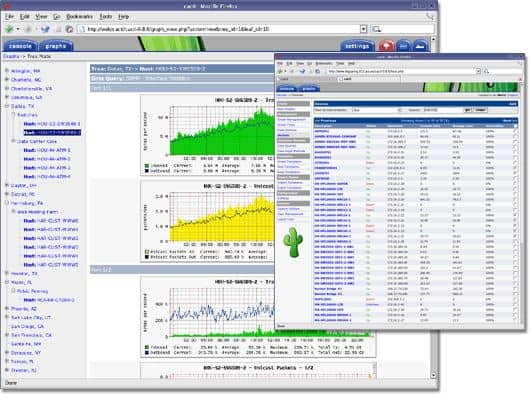 Also Read: How to Install Cacti Monitoring Tool on CentOS 8 / RHEL 8
4) Icinga
Icinga is another great monitoring system for your linux environment that helps you to monitor all your network devices and all the resources connected to its network. It also instantly notifies the admin when there is any suspicious or doubtful activities happening in the network. This is an enterprise grade tool that can be used for server and monitoring system across large network environments and offices situated across various locations.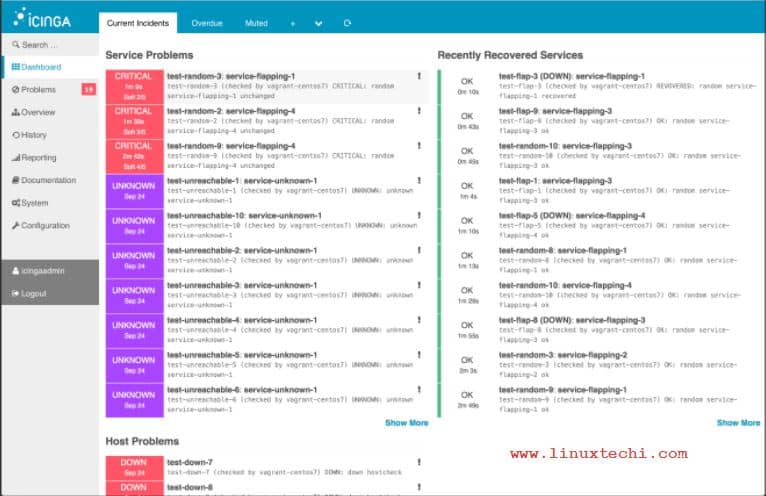 5) Zenoss Core
Zennoss Core is another excellent network monitoring system that is specially designed to be used in enterprise networks. It is a great software that comes loaded with a lot of features that you can find only in commercial monitoring tools. It is definitely a boon to any network administrator who needs a unique solution to monitor and address all their network issues easily.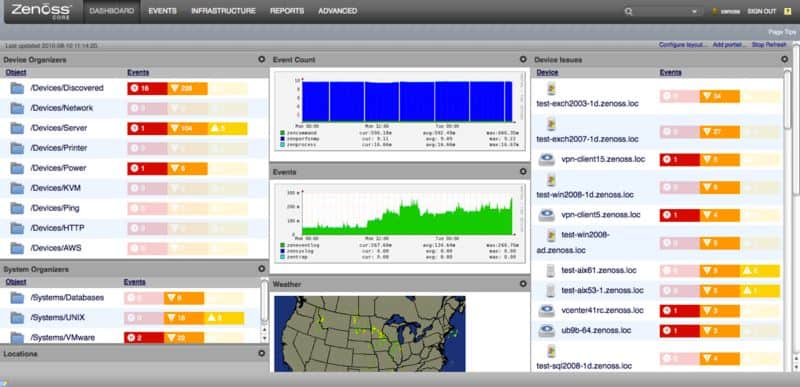 6) Ganglia
Ganglia is the next open source network monitoring system in our list that is specially designed to help in monitoring and providing accurate reports for large computing environments. It is highly scalable and developed based on a distributed architecture and a hierarchical design especially built for the high-end networks with a group of clusters. It utilizes highly-used and popular technologies XML for data representation and XDR for all kinds of data circulation across the clusters. The main objective behind the development of Ganglia is to provide detailed and informative data structures using complex algorithms to obtain maximum results.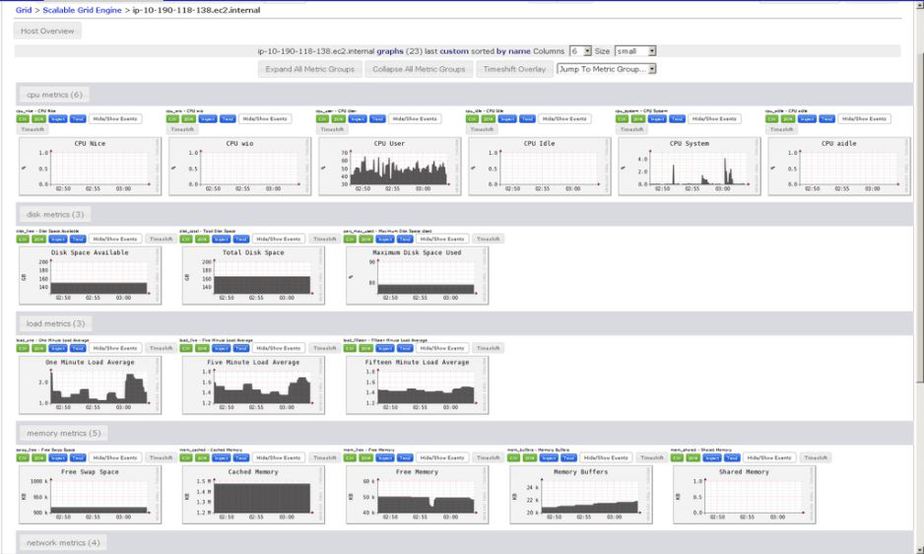 7) OpenNMS
OpenNMS is another excellent network monitoring system that is completely open source. It is also known to be the first enterprise level monitoring system released to be used in many large corporate companies with huge number of devices connected to its network. Users can automatically detect the nodes or monitor all kinds of services in the network with the help of OpenNMS.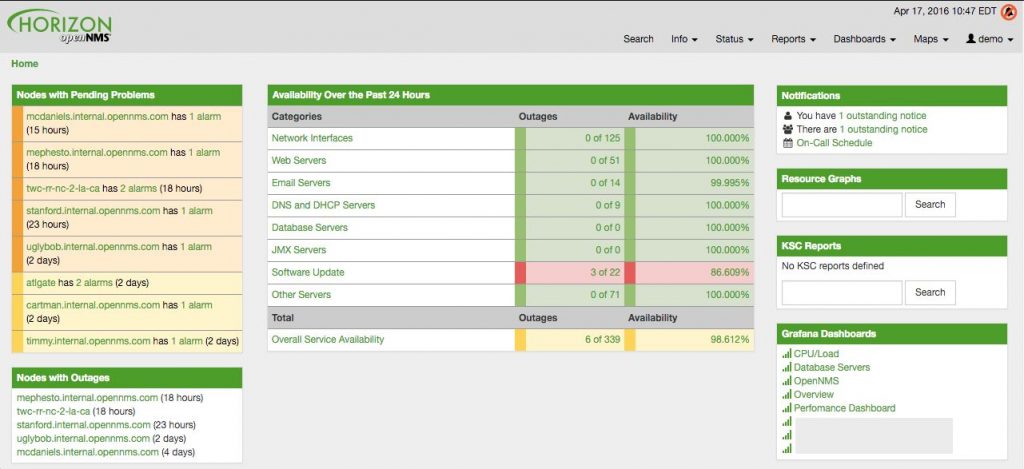 8) Centreon
Centreon also known as Centreon Enterprise server (CES) is another exceptional network monitoring system, it is used in many large banks, IT companies, major insurance and finance companies around the world to monitor the activities of their users and also to monitor the status and health of their network at all times. With CES in place in your company, you can be relaxed and sit comfortably supervising all your infrastructure and applications attached to the information system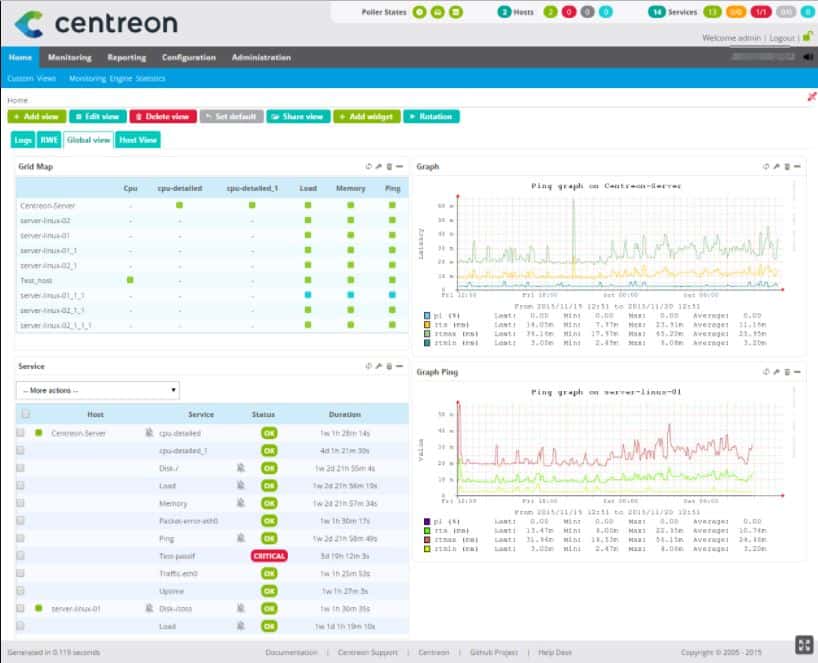 Centreon comes loaded with a lot of feature and also provides a lot of advantages including:
It allows the admin to monitor every server, applications and elements
It is a real-time management console and operating system
With the help of the publisher solution provided in the software, you can maintain the whole platform easily without any issues
Can add any number of users to the monitoring system through open software mechanisms
9) Sensu Core
Sensu Core is a full stack monitoring system helps any network administrator to monitor all kinds of servers, services along with business KPI's. It acts as a single monitoring platform that enables you to utilize for your entire business to monitor across servers, services, applications, network devises and remote resources too.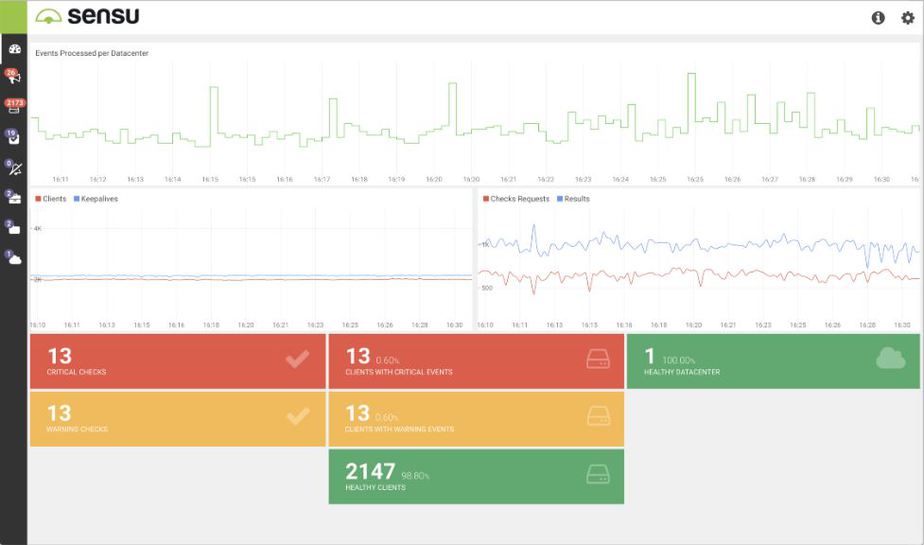 10) Observium
Observium is another great network monitoring system that is written in PHP/ MySQL/ SNMP and is developed as an auto-discovering tool to find out all problems in the network and notify the admin immediately. It is also developed to support various operating systems including Linux, Cisco, Juniper, HP, Brocade, FreeBSD and Foundry etc. It comes loaded with an extremely easy to interface that provides all historical data about all the devices connected to the network.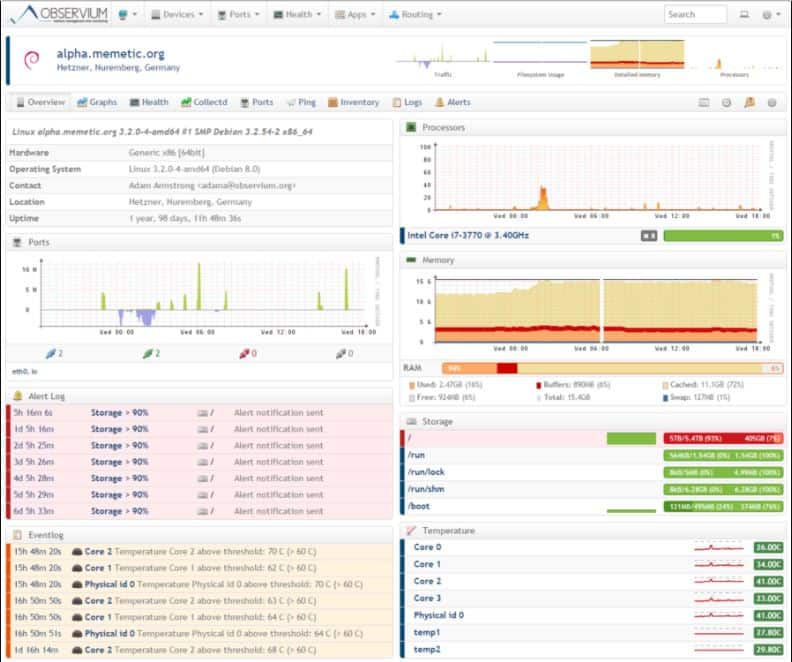 11) MRTG
MRTG (Multi Router Traffic Grapher) is another simple network monitoring system like Nagios, Cacti and Zabbix. It is specially designed to be used in networks with smaller number of computers. It is also mainly used for all devices like CPU, memory and other interfaces connected to the network. It also helps in providing detailed network statistics.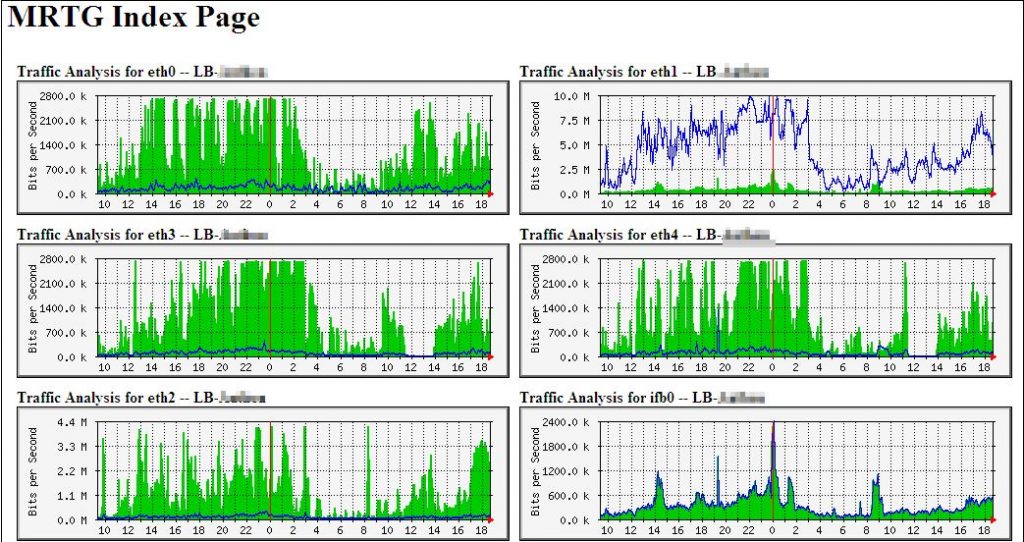 Also Read : How to Install Prometheus on CentOS 8 / RHEL 8