Kazam is one of the best screen recording tool for Ubuntu and Linux Mint Desktop. It records the contents of your desktop and create a video file which can be played in most of video player which supports VP8 and WebM video format. While creating video of our desktop we have an option to capture audio sound from input device like Speakers and Microphone. Some of the keys features of Kazam are listed are below :
It can capture the whole screen and selected portion of screen and creates a movie that can be easily played on video player
It can also work as screenshot tool.
Capture audio while creating video of your desktop
It also allows us to upload videos to Youtube directly from Kazam GUI.
Installation of Kazam on Ubuntu / Linux Mint
Kazam  software is available in the default Ubuntu and Linux Mint repositories but not the latest version. To install latest version of Kazam on Ubuntu 16.04/ 18.04 and Linux Mint 18 / 19, set the following repository and then run the beneath apt-get commands one after one the another.
linuxtechi@cloudworld:~$ sudo apt-add-repository ppa:sylvain-pineau/kazam
linuxtechi@cloudworld:~$ sudo apt-get update
linuxtechi@cloudworld:~$ sudo apt-get install kazam
Record Desktop Session / Screen with Kazam
Once the Installation is Completed, try to access Kazam from Dash as shown below :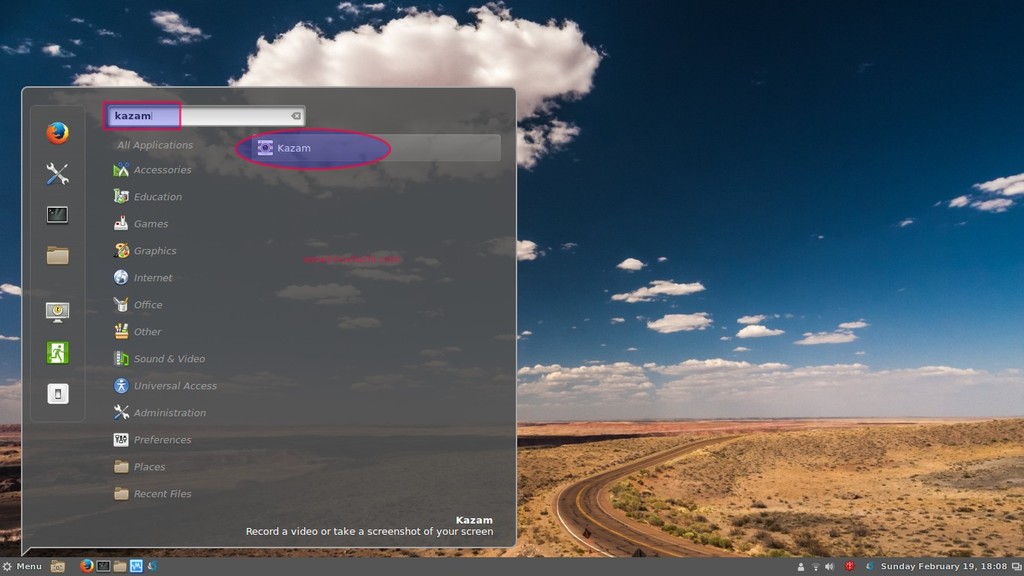 click on Kazam icon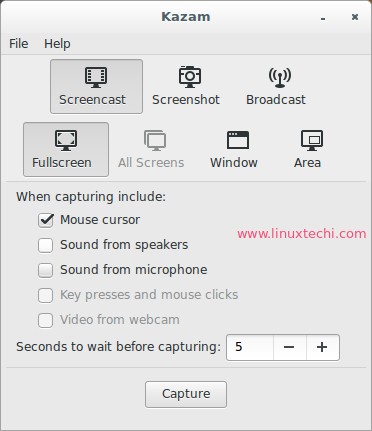 To Start Capturing your Desktop Session, Click on Capture. It will wait for 5 Seconds and then it will start capturing.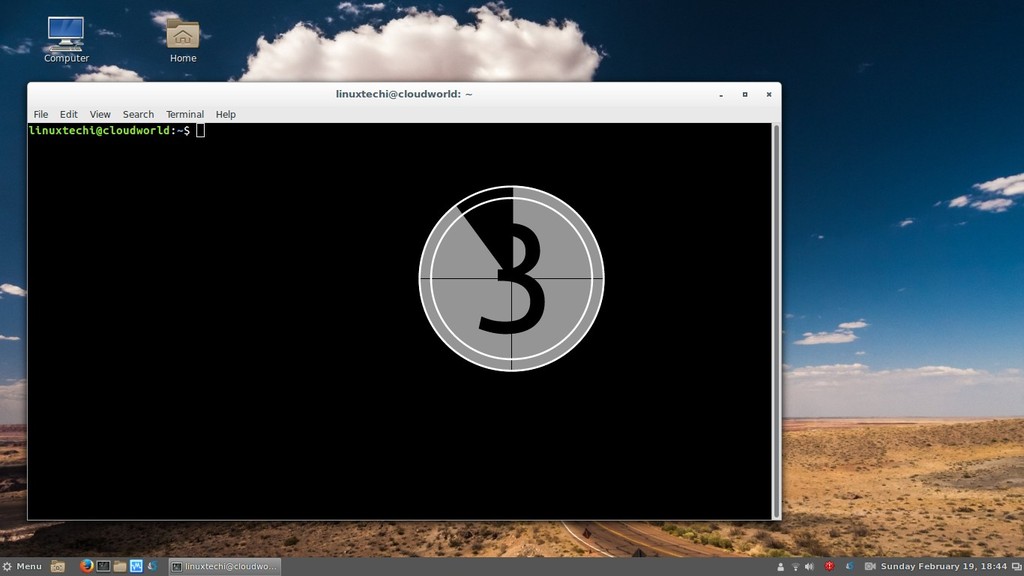 Once your are done with capturing Desktop Session, then click on "Finish Recording" from Kazam icon as shown below :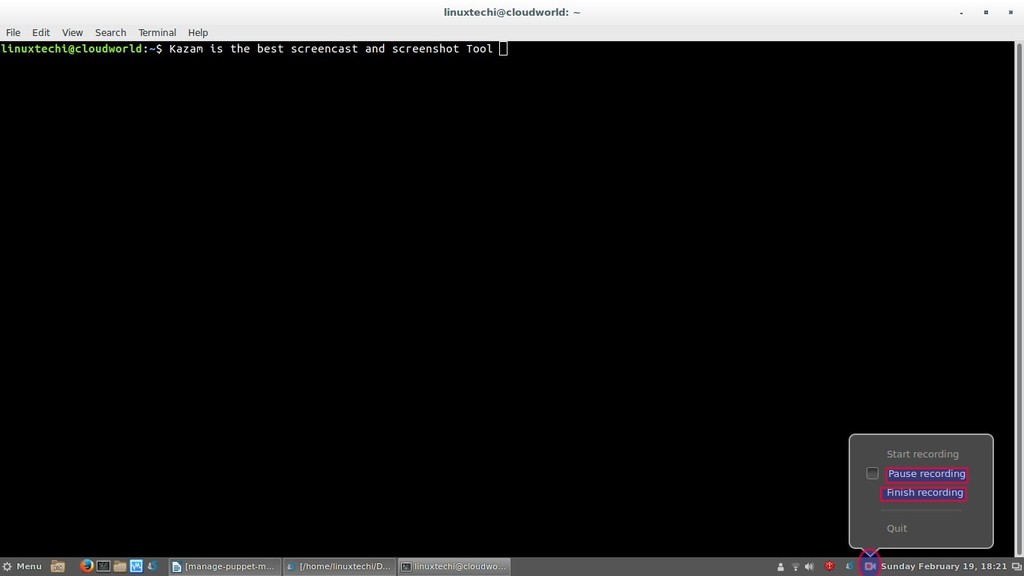 It will prompt us to save the recorded file, by default it saves the file with mp4 extension.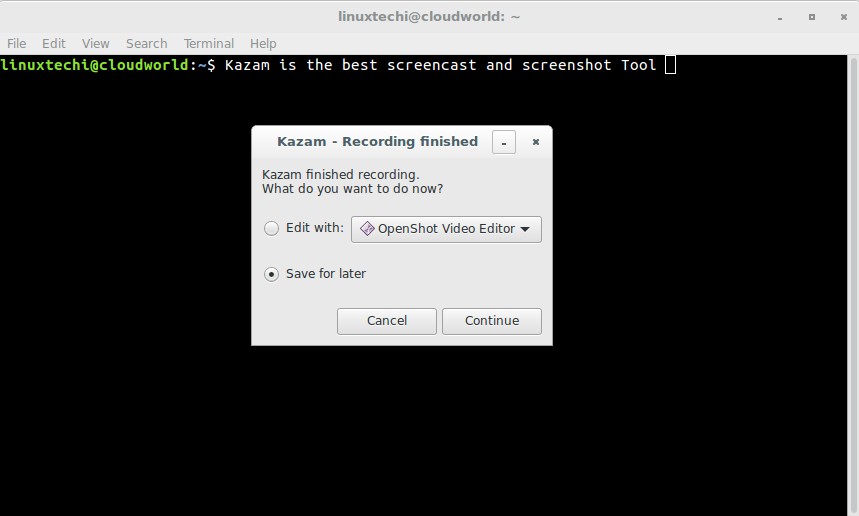 Click on click on "Continue" and specify the location where you want to save the recorded file.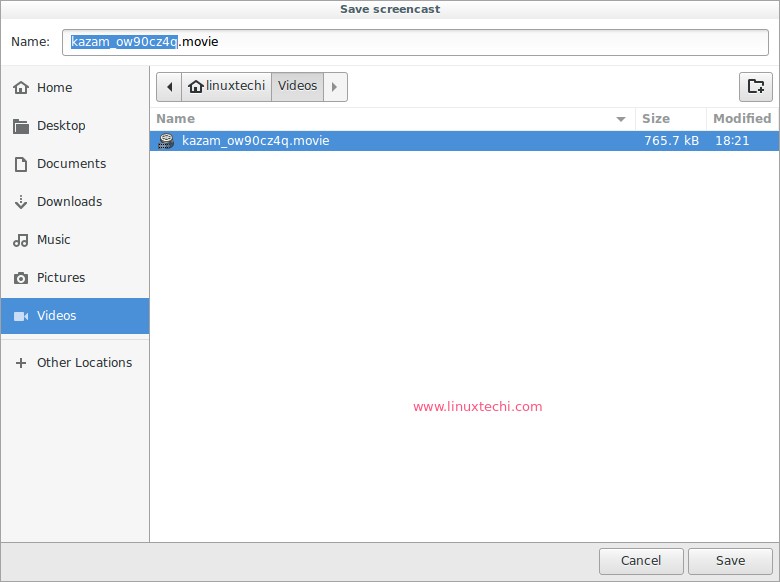 Click on Save.
Now Play the recorded file with VLC player. In my case i have stored the file in videos folder under my home directory.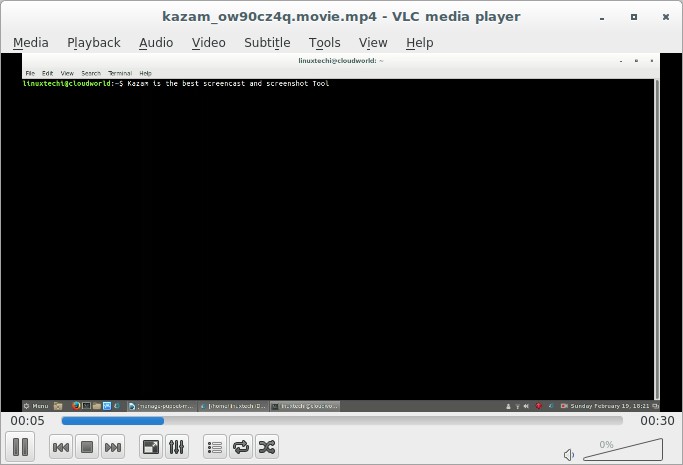 We can perform all task in above mentioned steps from command line as well using Shortcut Keys.
Use below keys to Start the Recording 
SUPER-CTRL-R
Use below keys to Finish the recording
SUPER-CTRL-F
Use below keys to Pause the recording
SUPER-CTRL-P
Use below Keys to Quit the recording
SUPER-CTRL-Q
Note : SUPER key refers to the windows key which is available in most of the computers.
That's all for this article. Enjoy and have Fun with Kazam Tool 🙂
Also Read: How to Install Notepad++ (notepadqq) in Ubuntu Linux