Adobe Flash player is important plugin that allows our web browsers to play multimedia contents like audio & videos streaming, flash based games and other rich media stuff.
Adobe Flash player is supported by different web browsers like IE ( Internet Explorer), Chrome, Firefox, Safari and Opera and can be installed on different operating system like Windows , Linux/ UNIX and Mac OS X and Android.
In this post we will discuss how to install adobe flash player on Ubuntu 15.04 and Ubuntu 16.04 / 16.10. Refer the below steps :
Installation from the Command Line :
Open the terminal and run the below commands
[email protected]:~$ sudo apt-get update
linu[email protected]:~$ sudo apt-get install flashplugin-installer
Installation using Synaptic Package Manager :
To use synaptic, make sure synaptic package is installed. In case if it is not installed then use the below command to install :
[email protected]:~$ sudo apt-get install synaptic
Start the Synaptic Package Manager
Dash Home —-> search —-> Synaptic

Click on Synaptic Package Manager .
Search "flashplugin installer", Mark it for installation and then click on Apply .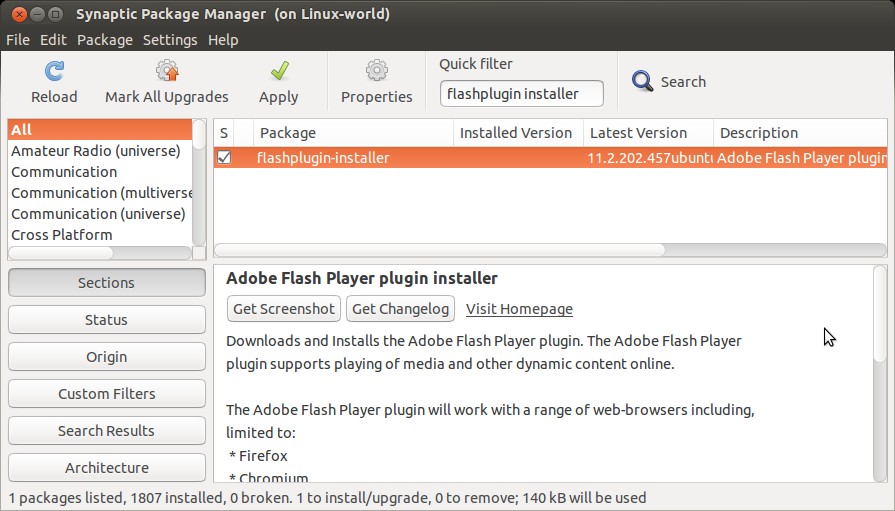 Once the installation is completed , to verify whether flash player is installed or Not. Visit the Adobe Web site.
http://www.adobe.com/in/software/flash/about/
As we seen that Adobe Flash Player is installed successfully