PDF is an acronym for Portable Document Format. It's the defacto format that is used for sharing documents electronically and is usually the preferred format when attaching documents on a website for download.
Once in a while, you might need to make changes to your PDF documents. This is not as straightforward as it sounds and one needs a PDF editor to make changes to the text and even images without having to convert them to another format. Join us as we explore some of the best PDF editors for Ubuntu Linux.
1) LibreOffice PDF editor
This may come as a shock to many as LibreOffice is generally known as a desktop publishing tool for basic used cases such as Word Processing, spreadsheets, and presentation, to mention a few. Thankfully, the free and opensource suite which is used by millions of users around the globe provides you the ability to modify PDF documents using LibreOffice Draw.
LibreOffice Draw is a built-in and handy PDF editor that allows you to make edits to your PDF documents. You do not need to purchase a proprietary PDF editor that will bleed your pockets dry. There's a catch though. You can only make simple modifications such as adding text, images, and text boxes to your pre-existing PDF documents. Nonetheless, it is still a powerful tool if all you are looking into is making simple modifications to your PDf files.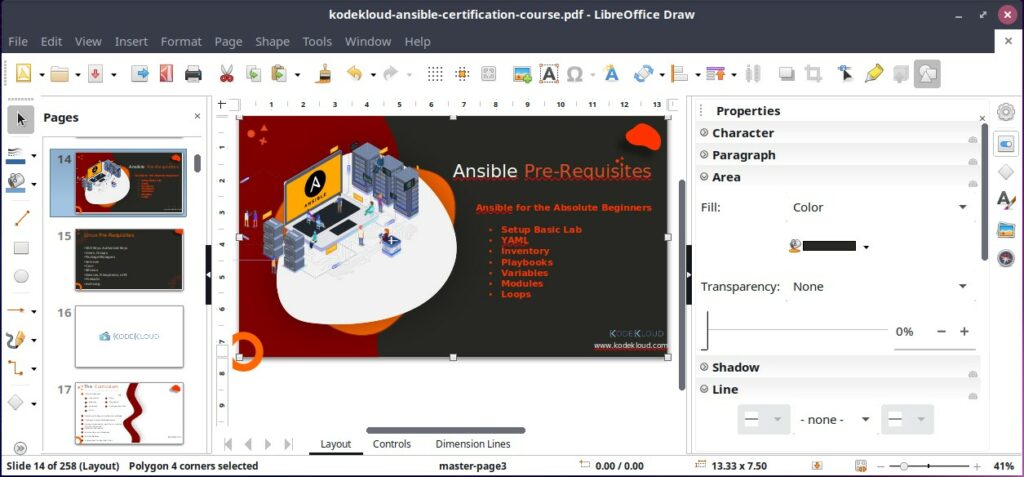 2) Okular
Developed and maintained by KDE, Okular is a multi platform document viewer based on Qt and KDE framework libraries. It is therefore native to the KDE environment and distributed as part of the KDE bundle.
Being a multi platform viewer, it supports a wide range of document formats including PDF, JPG, TIFF, XPS, markdown, ODF and so many more.
Okular provides users with the ability to add textboxes, comment on PDF documents, draw lines and shapes, trim page borders, and read-aloud text using the Qt speed functionality.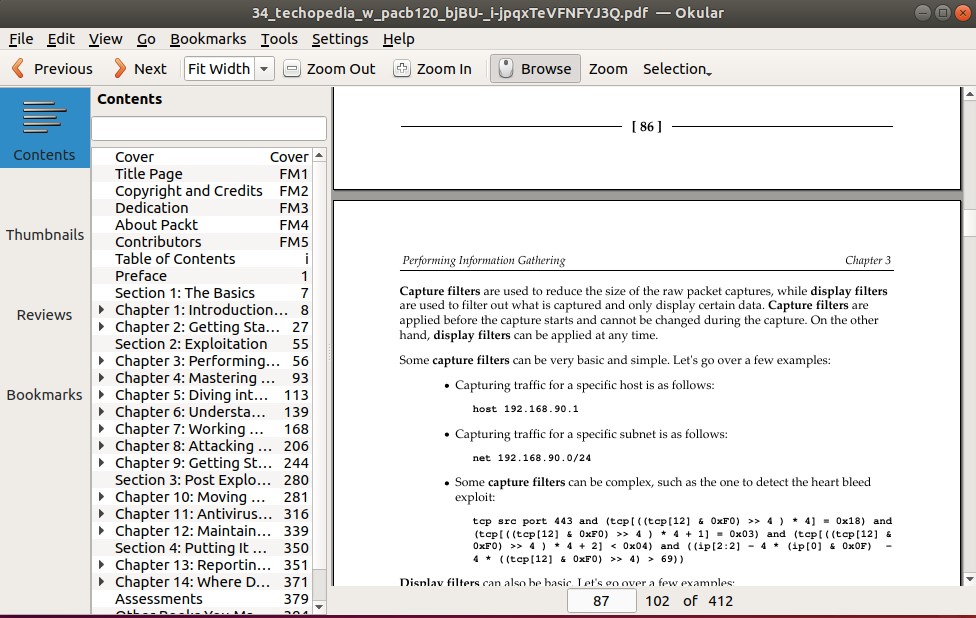 To install Okular on Ubuntu 20.04, run:
$ sudo apt install okular
You can also use snap packages as shown.
$ sudo snap install okular
3) Scribus
Written in C++ and based on Qt, Scribus is a free and opensource cross-platform Desktop publishing tool. With Scribus, you can create a wide variety of publications including magazines, newsletters, posters, brochures, and other pieces of artwork.
Aside from desktop publishing, Scribus also allows you to make minor changes to your PDF documents. You can add text boxes, lists, and also design interactive PDF documents.  However, like LibreOffice Draw, the main focus of Scribus is not editing PDF documents, and therefore you are limited only to basic editing techniques.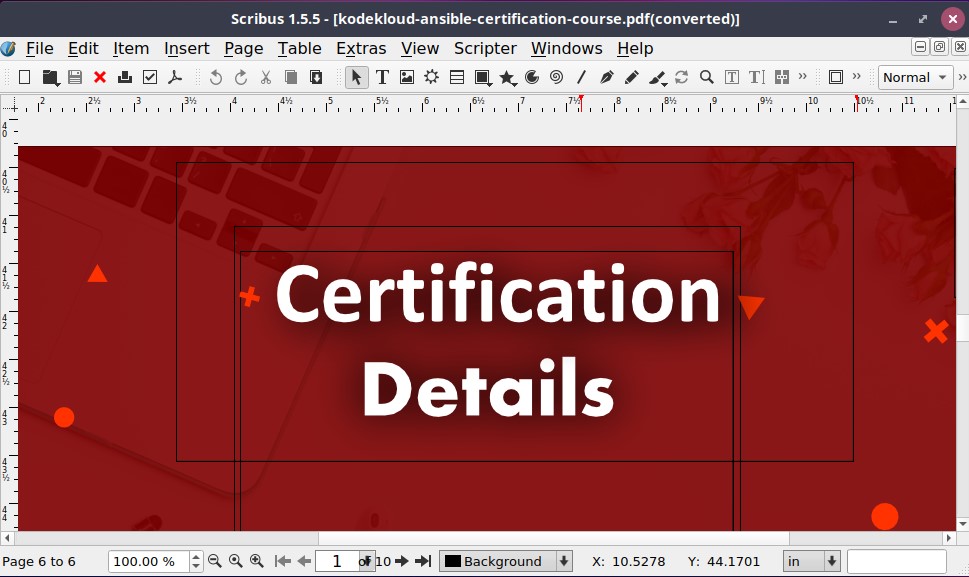 Scribus is available in the Standard Ubuntu repository and to install it, run the command.
$ sudo apt install scribus
4) Foxit Reader
Foxit reader is yet another formidable PDF editor and reader tool. It's a free and cross-platform PDF reader which can be used on either Mac, Windows,  Linux, and even Android. Foxit Reader comes with a neat and intuitive UI that provides a delightful user experience.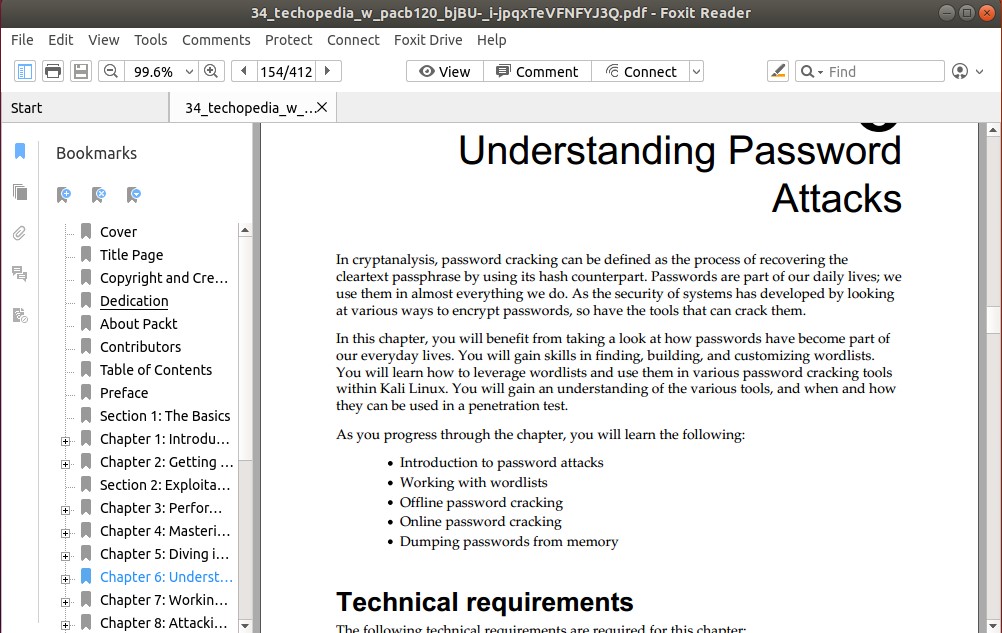 At a glance, Foxit PDF reader provides the following features:
Opening multiple PDF documents in different tabs
Printing PDf documents
Signing documents using eSignature
View PDF files in various orientations
Annotations
Text search and page rotation
Microsoft RMS Support
To install Foxit Reader, first head over to the Foxit reader page and download the Linux installer.
To make things much easier, you can download it on the command line as shown
$ wget http://cdn01.foxitsoftware.com/pub/foxit/reader/desktop/linux/2.x/2.4/en_us/FoxitReader.enu.setup.2.4.4.0911.x64.run.tar.gz
Once downloaded, extract the Foxit Archive installer with tar command
$ tar -xvf FoxitReader.enu.setup.2.4.4.0911.x64.run.tar.gz
This extracts the tarball file and yields the installer shown

Next, run the installer as a sudo user as shown
$ sudo ./FoxitReader.enu.setup.2.4.4.0911\(r057d814\).x64.run
Accept the default directory path and click 'Next'.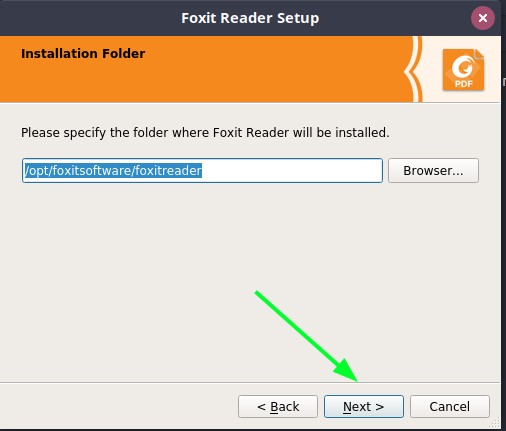 Accept the license agreement and click 'Next'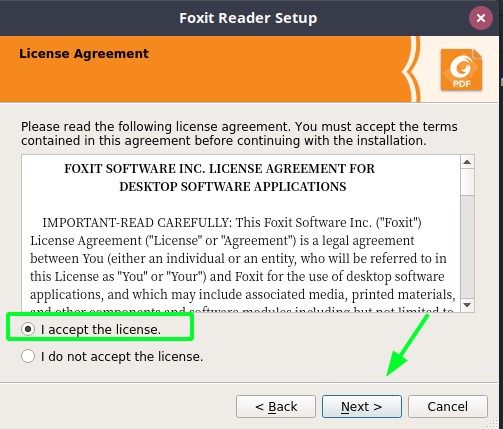 The installation of Foxit Reader will get underway.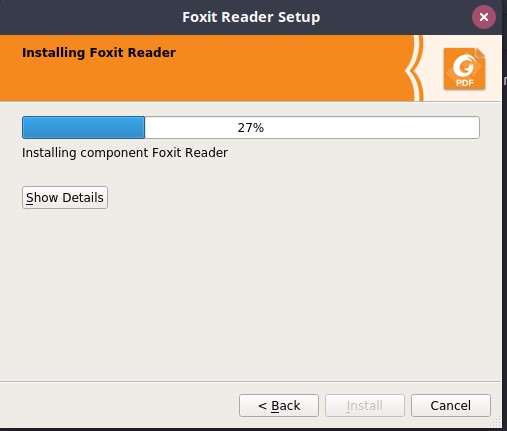 After a few seconds, the installation will be complete. Click 'Finish' to exit.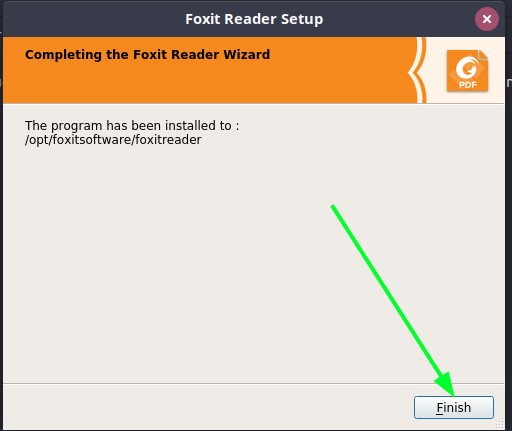 5) GIMP
GIMP , short for GNU Image Manipulation Program, is a popular cross-platform image editing tool that performs a wide range of image editing operations. It provides high-quality image manipulation tools for performing image modification tasks such as retouching and restoring. In addition, you can design mockup art, UI components such as buttons and icons aided by high-quality color management features which ensure high-color image fidelity. It's also used in workflows involving other applications such as Inkspace and Scribus as discussed earlier.
Sadly, the huge emphasis on image manipulation eclipses the functionality of editing PDF documents. You are limited to just importing PDF documents and converting them into layers whereupon you can extract and slightly modify the contents. Thereafter, you can export the PDF into multiple file formats for additional editing by other applications.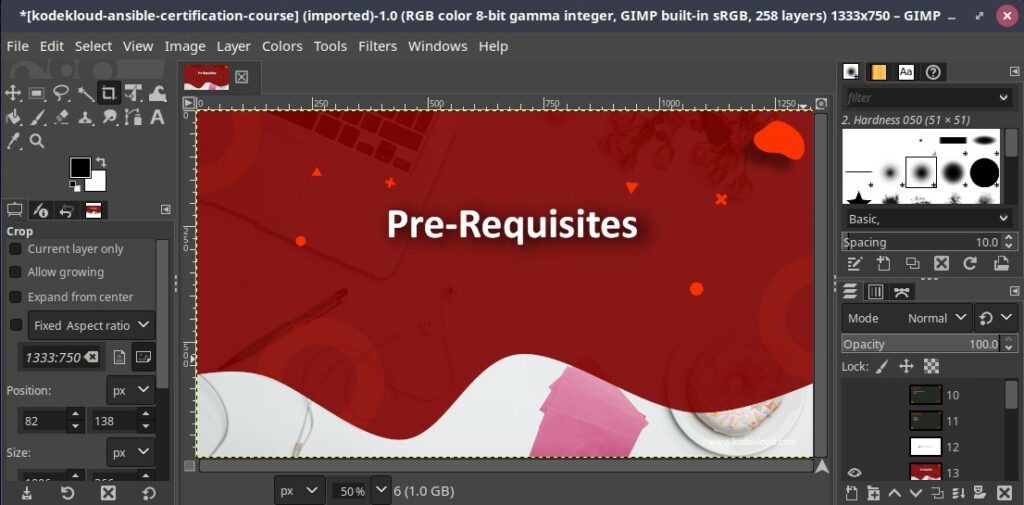 To install GIMP, use the snap package manager to install from Snap package as shown.
$ sudo snap install gimp
6) Inkscape
Inkscape is a completely free and opensource editor with a primary focus on vector graphics. It's a cross-platform application that runs on Windows, Linux, and Mac. It's quite lightweight and provides a rich set of features and controls to manipulate and edit raster graphics and images.
Besides raster graphics, Inkscape can be used for editing PDF documents. You easily import PDF documents and perform basic editing techniques such as inserting and removing text and images. However, it is plagued with performance issues and sometimes can lag and be a little slow in making the changes to your PDF documents.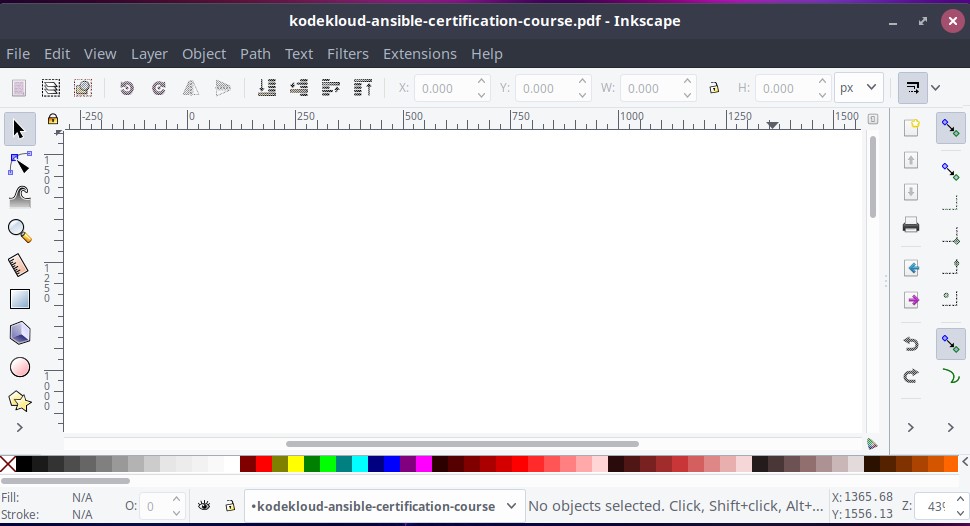 Inkscape is available on Ubuntu repositories and can be installed using the APT package manager as shown
$ sudo apt install inkscape
7) Master PDF Editor
So far, we have discussed PDF editing tools whose main focus is not editing PDF documents, and are therefore lacking in rich PDF editing features. If you are looking for an advanced and feature-rich PDF editing tool, then Master PDF editor will come to your rescue.  It's a cross-platform tool that is available for download and use on Windows, Linux, and Mac.
Master PDF Editor is a proprietary tool, unlike the tools discussed earlier. Thankfully, it provides a free version that allows you to try out the basic PDF editing features. To unlock all the PDF editing features, you need to upgrade to the premium version.
Master PDF Editor supports full editing of PDf documents including
Modifying text, images, animations.
Adding a wide range of controls such as lists, check-boxes, radio buttons,
Importing/exporting PDF pages into various file formats.
Changing font color and size.
Adding or creating bookmarks.
Encrypting PDF files with 128-bit encryption.
Splitting and merging PDF documents.
Signing PDF documents using digital signatures.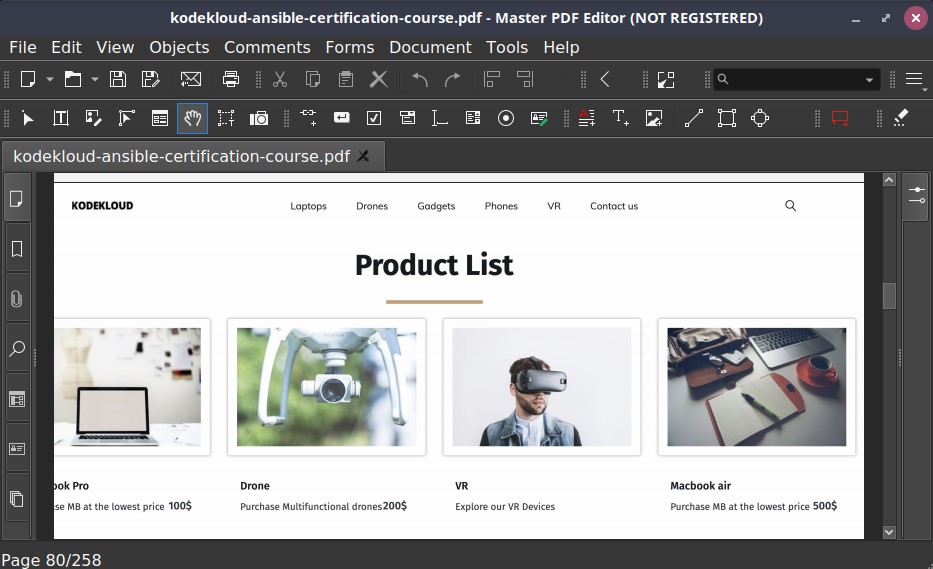 Upgrading to the full master version, you have to part with $79.
To install Master PDF Editor, head over to the Offical download site and grab the Debian package as shown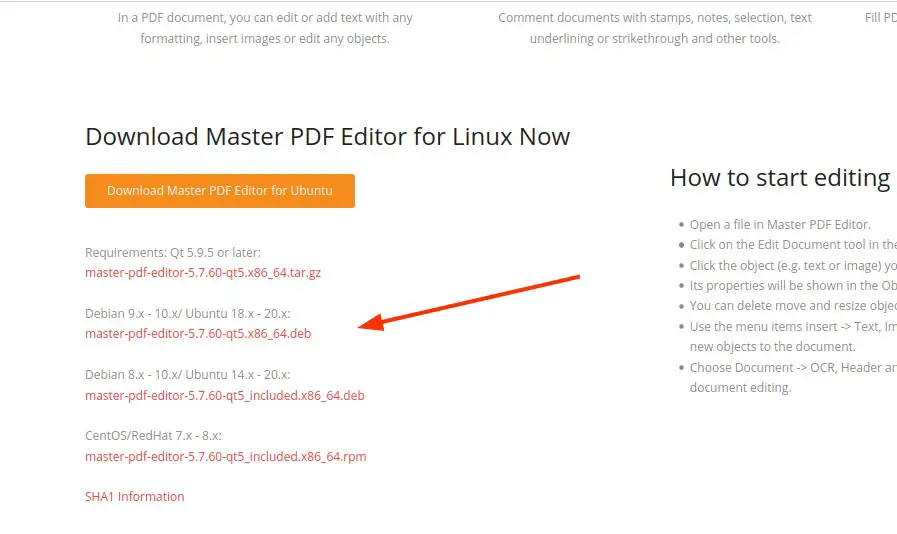 On the command line, run the wget command to download the Debian package.
$ wget https://code-industry.net/public/master-pdf-editor-5.7.60-qt5_included.x86_64.deb
Once downloaded, run the Debian file as shown to install Master PDF Editor.
$ sudo apt install ./master-pdf-editor-5.7.60-qt5_included.x86_64.deb
Conclusion
That was a roundup of some of the Top PDF editors that you can leverage to modify or make changes to your PDF documents and even export them to other file formats. Any of these PDF editing tools provide essential PDF editing tools to modify your PDF documents.  However, if you are going for more advanced PDF editing features, we strongly recommend the  Master PDF editor full version.