Google Drive is a cloud-based file storage that allows you store your files on Google Servers, share files with other users and also synchronize the files among various devices including your computer, mobile phone, tablets etc. To access Google Drive you only need to have Gmail account and even offers 15GB of free storage space.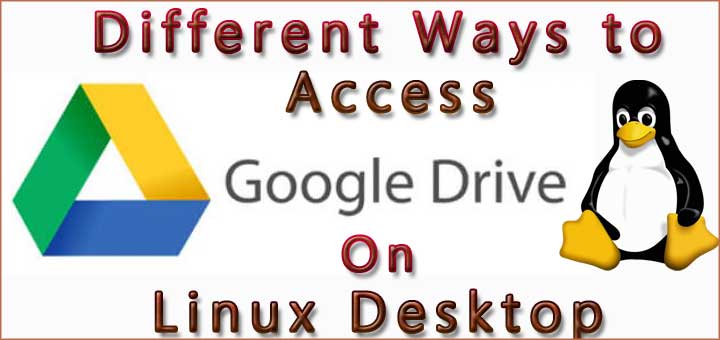 Launched in 2012, Google Drive can be easily accessed in Windows system, Android and iOS but Google is yet to announce an official client for Linux desktops to access your files in Google Drive. But there may tools available in Linux that allows you to easily access Google Drive. In this article, we are going to look for different ways to access Google Drive on Linux Desktop.
Insync
When it comes to providing complete access to Google Drive from Linux, Insync is one of the best clients available to come with a lot of features and provides you options to get anything you need from Google Drive. It also supports multiple Google Drive accounts, notification features etc.
It is supported in many of the popular Linux distributions and the installation process is also pretty straightforward and simple. It also comes with an attractive GUI to enable easy access of Google Drive and its features. A command line interface is also supported.
But the main problem it is available for free only for 15 days and you need to pay for using the software after 15 days. And it will cost around $29 for a single user account and separate packages available for multiple account usage. And if you willing to pay some money, we can definitely say that Insync is the best Google drive client available for Linux Desktop.
Access Google Drive from Ubuntu Desktop
Unlike Windows and MacOS, accessing Google Drive from a Ubuntu desktop is slightly different. Let's take a look at how to access the Google Drive from your Ubuntu Desktop
In your Ubuntu Desktop, go to Settings –> Online Accounts
In Online Accounts you can see all your various accounts listed. Click the "Add" button to add your Google account
Now select Google from the list and provide your user credentials for your Google Account
Once you've provided your username and password, it will ask you ALLOW for permissions, just click "ALLOW"
In the next window, you can see option to enable/disable various Google features including Mail, Photos, Files, Documents, Calendar, Contacts, Chat etc.
Click ON to enable the required functions
Your Google Drive is ready for use now
Mount your Google Drive by opening the Files Window and double-click on your Google account to mount it in your system
You can add, remove any files and folder to your local drive to your Google Drive or vice versa.
You can also see a separate drive icon appearing on your desktop for your Google Drive
OverGrive
OverGrive is another interesting Linux desktop client that lets you access most of the features of Google Drive and the only exceptions that there is no symlink support provided. The GUI is pretty much simple and easy to navigate and the installation is also straightforward and simple. OverGrive is supported in all major Linux distributions and is also available in various languages as well. But OverGrive is not available for free, but when you compare the price with Insync, you can get OverGrive for less than $5.
Rclone
Rclone is another Google Drive client but a command line program that allows you to manage your files in your Google drive and sync files between various other cloud storage devices like Amazon S3, Dropbox, OneDrive etc. The installation is very simple and there is a descriptive installation guide and usage manual available in their official website. The main aspect about Rclone is that is available completely for free. And if you are fan of command line interfaces, then you will certainly like this Google Drive client.
Conclusion
It is certainly disappointing why Google has not come up with an official Google Drive client for Linux even after it was launched for Windows and iOS about 6 years before. But until they launch one, if you are looking to use Google Drive from your Linux desktop, then you certainly need to use any one of these clients to access Google Drive. Please post your comments and suggestions in the comments section and we'll be happy to revert back at the earliest.