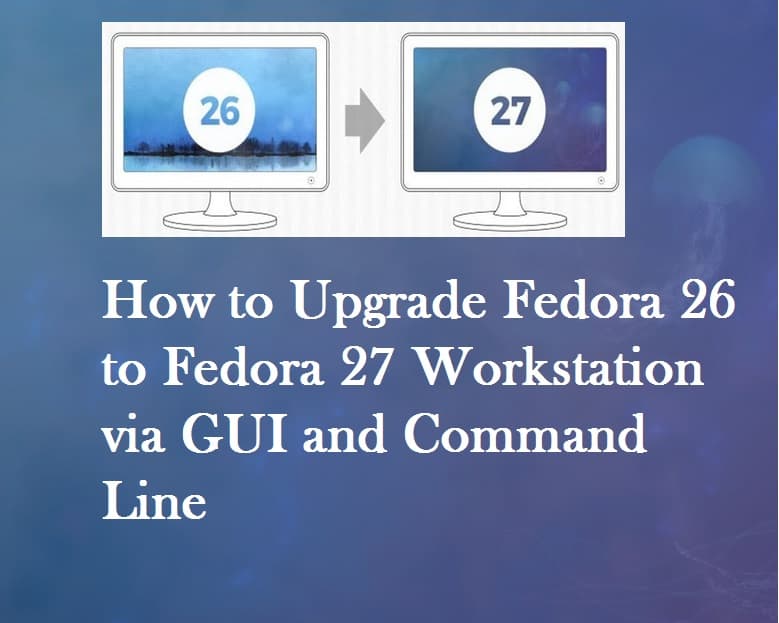 The month of November 2017 saw many interesting releases for Linux and one such instance where the community was so excited was the release of Fedora 27.  The development process of Fedora 27 around February 2017 and the beta version got released on October 2017. Originally the release was meant to be in three versions including Fedora 27 Workstation Edition, Fedora 27 Server Edition and Fedora 27 Atomic Host. But due to some issue, Fedora only released the Workstation and the Atomic Host this November. But Fedora has promised to release the Server version before the holidays in December. So for the curious fans of Fedora, let's jump in directly about the new features in Fedora 27 along with the steps to upgrade from Fedora 26 to Fedora 27 workstation.
Fedora 27 – New Features & Changes
Fedora 27 has some prominent changes when compared to Fedora 26 and some of the important features are listed below:
Inclusion of GNOME 3.26
We can see some new and interesting concepts being added with every Fedora release and Fedora 27 is no different, as it comes banging with the latest version of GNOME 3.26 desktop environment bundled with the Fedora 27 release. Some of the notable changes and features included in this release include: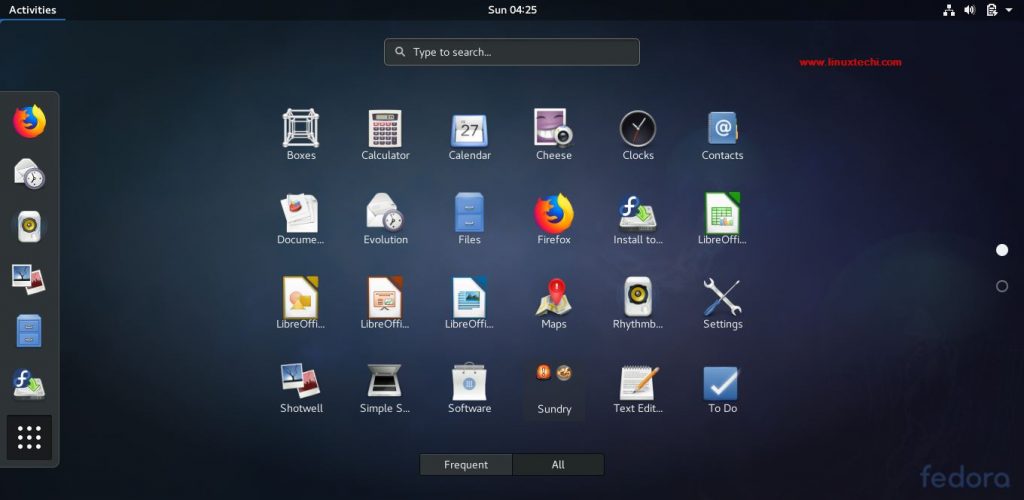 Settings and configurations interfaces have been totally revamped
Interface is clear and displays more search results
More support for gaming hardware
Changes have been in the display interface and you also support for color emoji's
Option to share folders in boxes
Various improvements and changes in the Builder IDE tool too
LibreOffice 5.4
Fedora 27 also comes included with the latest stable version of LibreOffice 5.4. So working with documents, presentations and spreadsheets are much easier now. LibreOffice 5.4 itself has a lot of new features in itself, which can be seen here. But some of the important changes/additions are that the Writer and Calc have improvised a lot as you have enhanced support for .dotx and .dotm files in the LibreOffice Writer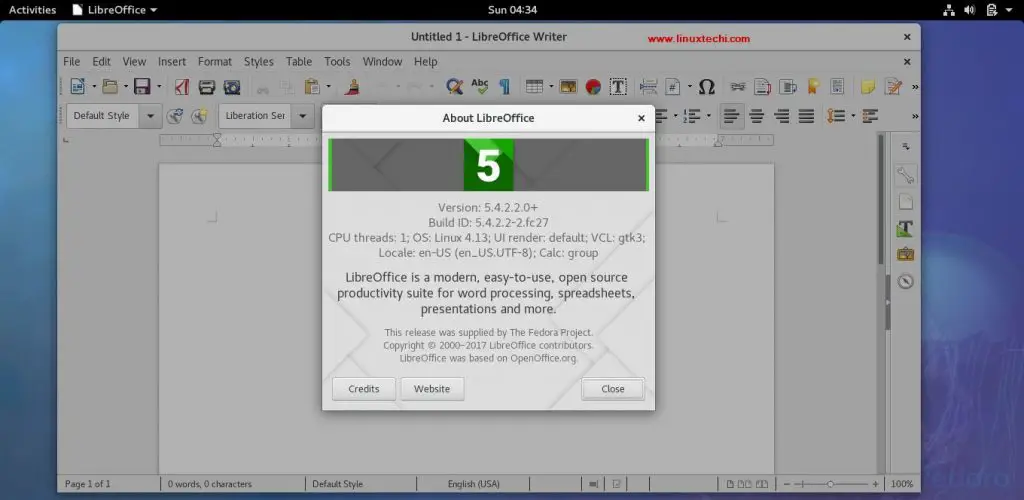 Other New Features
There are other many notable changes and enhancements including enhanced support for Windows 7 and fedora 27 allows you to create bootable SD cards to boot Raspberry devices. Fedora 27 also brings in the latest .js version of 8 along with a preview of Java 9 tech. Also, fedora 27 comes integrated with Perl 5.26 and Golang 1.9. RPM, GNU C library and Ruby on Rails have all been updated with latest versions.
Upgrade from Fedora 26 to Fedora 27 Workstation
If you are already using Fedora 26, then you can easily upgrade to Fedora 27 either using the command-line method or through the GUI upgrade system. Let's see how to upgrade from Fedora 26 to Fedora 27 workstation using both methods in detail below:
Upgrade Using GUI Method
If you want to instantly upgrade from Fedora 26 to Fedora 27 workstation without any wait, then you definitely need to go by the graphical user interface (GUI) method. It is pretty much simple and takes only a few minutes to get you started with Fedora 27 workstation. Now let's see how to upgrade to Fedora 27 using GUI method:
Open the GNOME Software or from the GNOME Shell choose software to launch the app
Go to the Upgrade Tab
You should now see a message in the Upgrade tab that "Fedora 27 Now Available" as below: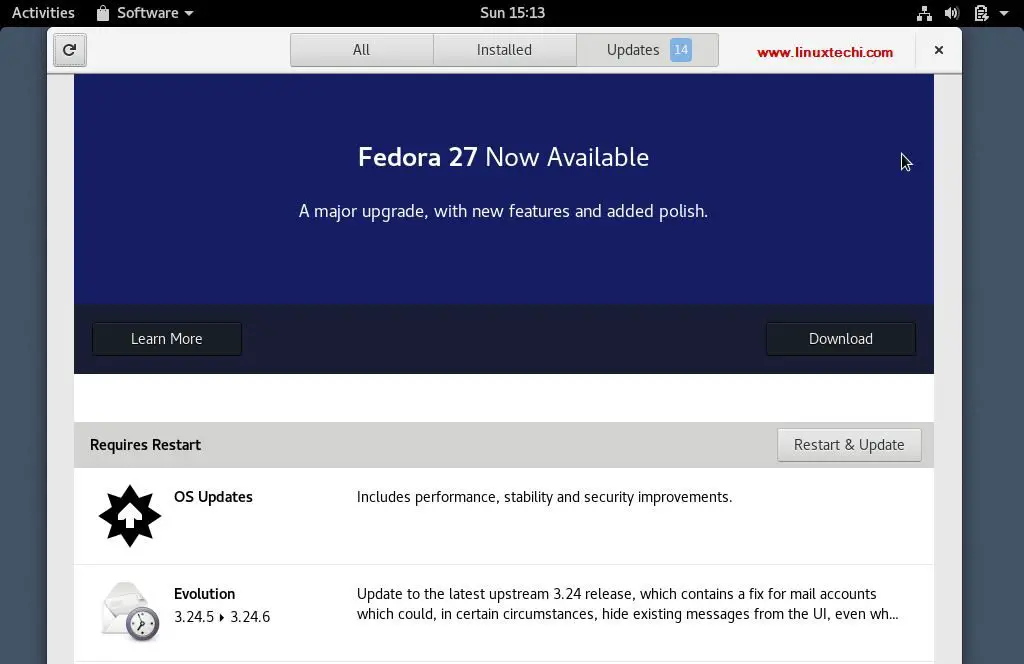 If you don't see this message in the GNOME software, try clicking the reload button on the top left of your screen
And by this time you should be seeing the message that upgrade is available and click "Download" to get the upgrade package downloaded to your system
Once the download is completed, open the GNOME software and then press the update button
Now sit back, relax and have a cup of coffee and the in the meantime the upgrade should have been completed
Upgrade Using Command-line Method
If you want to take control of the upgrade process, then you should definitely go by the command line method, as it gives you more visibility over the upgrade process, whereas in the GUI method, everything takes place in the background. Let's take a look at the steps involved in upgrading from Fedora 26 to Fedora 27 workstation using the command line method:
Step :1) Take a Backup of your System
It is always recommended to a take a backup before installing any major application into your system. Try to take a backup of the important personal and system data and run tests to see if your hardware will not cause any problems with the new upgrade
Step:2) Update Fedora 26
Make sure you have the latest version of Fedora 26 and if not, enter the following command in a terminal to have it updated
[linuxtechi@fedora ~]$ sudo dnf upgrade --refresh -y
Step :3) Install the DNF Plugin
Next step is to have the DNF upgrade plugin installed in your system
[linuxtechi@fedora ~]$ sudo dnf install dnf-plugin-system-upgrade  -y
Step :4)  Prepare for the Upgrade
Now it's time to start downloading the upgrades to get ready for the upgrade process from the server. To start the download process enter the following command:
[linuxtechi@fedora ~]$ sudo dnf system-upgrade download --releasever=27
You could run into certain issues regarding dependencies, packages not upto date or any retired packages. If you face such issues, add the –allowerasing flag in the command above, so the DNF plugin will remove all packages that could block the upgrade process. Be careful to check what packages it removes as it could cause issues in some of your applications.
Step :5) Upgrade to Fedora 27
Now it's time to start the actual upgrade process. Reboot the system and start the upgrade process using the following command:
[linuxtechi@fedora ~]$ sudo dnf system-upgrade reboot
And that's it, sit back, relax and have a cup of coffee, your upgrade process will complete in a few minutes, once the upgradation process completed successfully then it will reboot our machine and will get the new Fedora 27 Login Screen.
That's all from this article, Please do share your feedback and comments in case these steps help  you to upgrade  Fedora 26 to Fedora 27.