FileZilla is a ftp client for both windows & linux operating system. It is a powerful client for plain FTP, FTP over SSL/TLS (FTPS) and the SSH File Transfer Protocol (SFTP). Some of the common features are listed below :
  * Supports FTP, FTP over SSL/TLS (FTPS) and SSH File Transfer Protocol (SFTP)
* IPv6 support
* Available in more than 40 languages
* Supports resume and transfer of large files >4GB
* Easy to use Site Manager and transfer queue
* Bookmarks
* Drag & drop support
* Speed limits
* Filename filters
* Directory comparison
* Network configuration wizard
* Remote file editing
* Keep-alive
* HTTP/1.1, SOCKS5 and FTP Proxy support
* Logging to file
* Synchronized directory browsing
* Remote file search
* Tabbed interface to connect to multiple servers
In this article we will learn how to install FilZilla in Ubuntu 16.04 and Ubuntu 18.04 & also see how to use filezilla.
Installation of FileZilla :
Method 1: Open the Synaptic Package Manager , search filezilla as shown below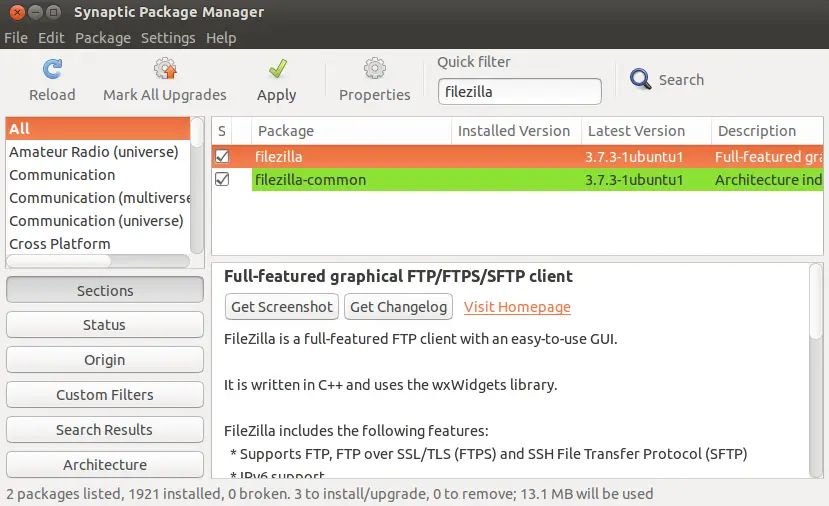 Select filezilla and Click on 'Mark for Installation' , then Click on Apply button
Method 2:  Open the terminal , type the below command :
[email protected]:~$ sudo apt-get install filezilla -y
Now Access FileZilla :
Click on Filezilla icon as shown below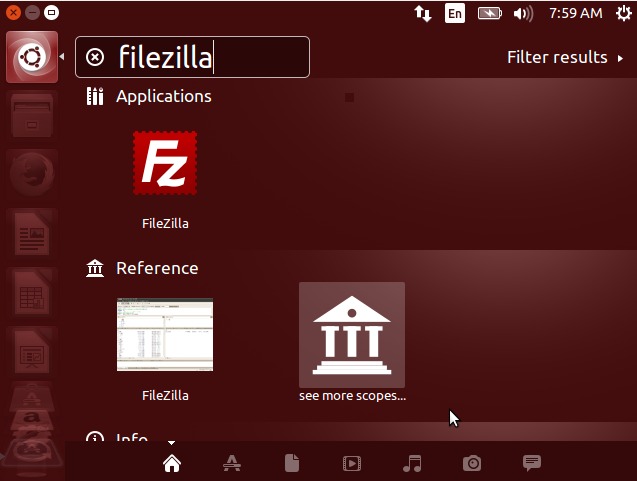 In ths Host box enter your ftp address , then enter ftp user in the username box and password of ftp user in the password box.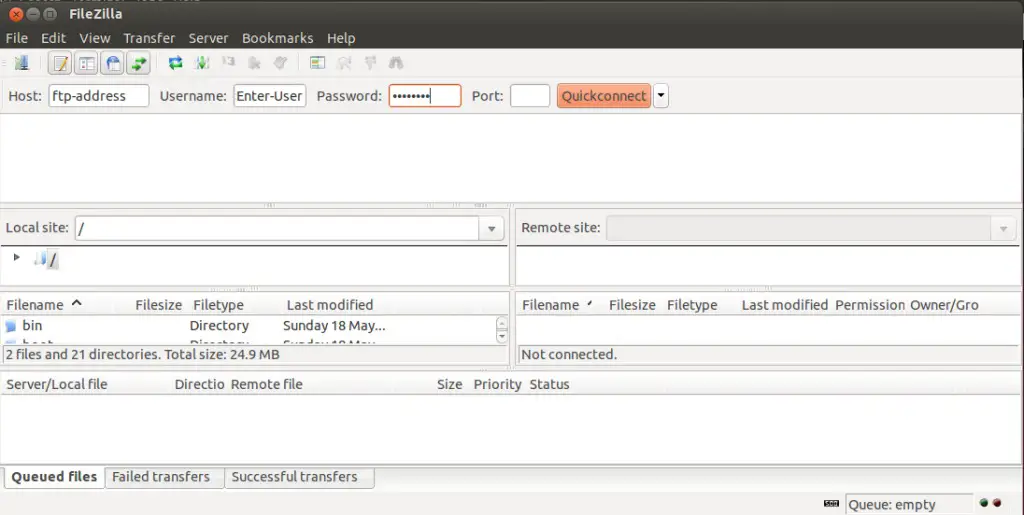 Once it is connected to FTP server, In Filezilla you have two sites , On Local site it shows local files & folders of your system and On the Remote Site it will show ftp server's files  folders.
Read Also: How to Install vsftpd (ftp server) on CentOS 8 / RHEL 8