VirtualBox (Oracle VM VirtualBox) is a virtualization software for x86 & AMD64 / Intel based system from Oracle. Virtualbox allows us to run multiple operating system at the same time . We can say VirtualBox is very powerful and cross-platform virtualization software.
In this Post we will discuss how to install Virtualbox in Ubuntu 14.04 / 14.10. Before starting installation let us discuss some of virtualization terminology.
Host Operating System (Host OS) – It is an operating system of the physical machine on which virtualbox is installed or will be installed. Host OS for virtual box can be Windows, UNIX and Mac OS X.
Guest operating system (Guest OS) – It is an operating system which is running inside the virtual machine.
Virtual machine (VM) – This is the special environment that VirtualBox creates for our Guest OS while it is running. In other words, we can say that we run guest OS in a VM.
Installation of VirtualBox from the Command Line :
In Ubuntu 14.04 LTS & 14.10 , virtualbox packages are included in multiverse repository. To verify this information run below command .
[email protected]:~$ apt-cache policy virtualbox
virtualbox:
   Installed: (none)
   Candidate: 4.3.18-dfsg-1
   Version table:
   4.3.18-dfsg-1 0
        500 http://in.archive.ubuntu.com/ubuntu/ utopic/multiverse amd64 Packages
So to install VirtualBox , first enable the multiverse repository (if not enable), then update the package database & then use agt-get command to install virtualbox package.
$ sudo add-apt-repository multiverse
$ sudo apt-get update
$ sudo apt-get install virtualbox
Now Start VirtualBox
(Dash Home —> Search –> virtualBox).

Click on VirtualBox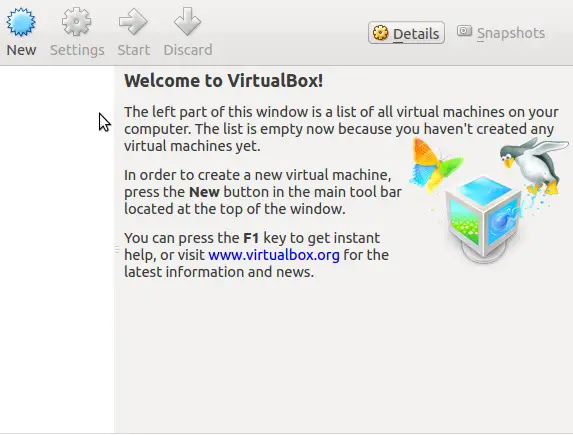 Installation is completed now, Create & Manage your Virtual Machines and have Fun 🙂